May 30 – 2023
UMEA SWEDEN
Floating solar is a fast-growing technology with huge potential as they not only help to conserve land resources but also promote sustainable energy production. The Seaflex mooring system is an innovative and environmentally friendly solution for floating solar projects. The system's long-term durability and resistance to environmental factors make it a reliable and sustainable option for the renewable energy sector. Applied Fiber is proud to be a key component in the Seaflex mooring system. This project, located in Portugal, features near 12,000 floating solar panels covering an area of 55,000 square meters with a total capacity of 5MW. This system powers the pumped hydro system, which provides energy storage to the national grid, generating enough electricity to power approximately 1,800 homes. With depths up to 70 meters, 20+ meters of water level variation, over 1-meter waves and storm winds gusting over 30 m/s, locations like these pose significant challenges to designing FPV parks for 25+ year lifespans. Therefore, industry experts from Seaflex and Rise in Sweden, Isigenere in Spain, Wavec and EDP in Portugal came together with the help of the FRESHER EU project funded by EMFF (European Maritime & Fisheries Fund) to design and construct the safest, most advanced, and cost-effective FPV solution to date.
A key element for the success of these floating solar fields is the mooring system that keeps it in place. The Seaflex mooring system, with Applied Fiber as a key component, is an innovative and environmentally friendly solution for floating solar projects. The mooring system is designed to have minimal environmental impact, making it a more sustainable option for the future. Unlike traditional anchor and rope configurations, which allows more movement, uneven force distribution and can be harmful to the seabed and ecosystem around the moorings, Seaflex's mooring system integrated with Applied Fiber bypass tension system ensures that the mooring system never rubs along the seabed and is always in tension above the seafloor. Applied Fiber's innovative bypass design has been proven to work effectively in all climates and conditions, demonstrating exceptional fatigue resistance due to the constant tidal cycling the systems are subjected to. This long-term durability provides project owners with unmatched reliability and dependability.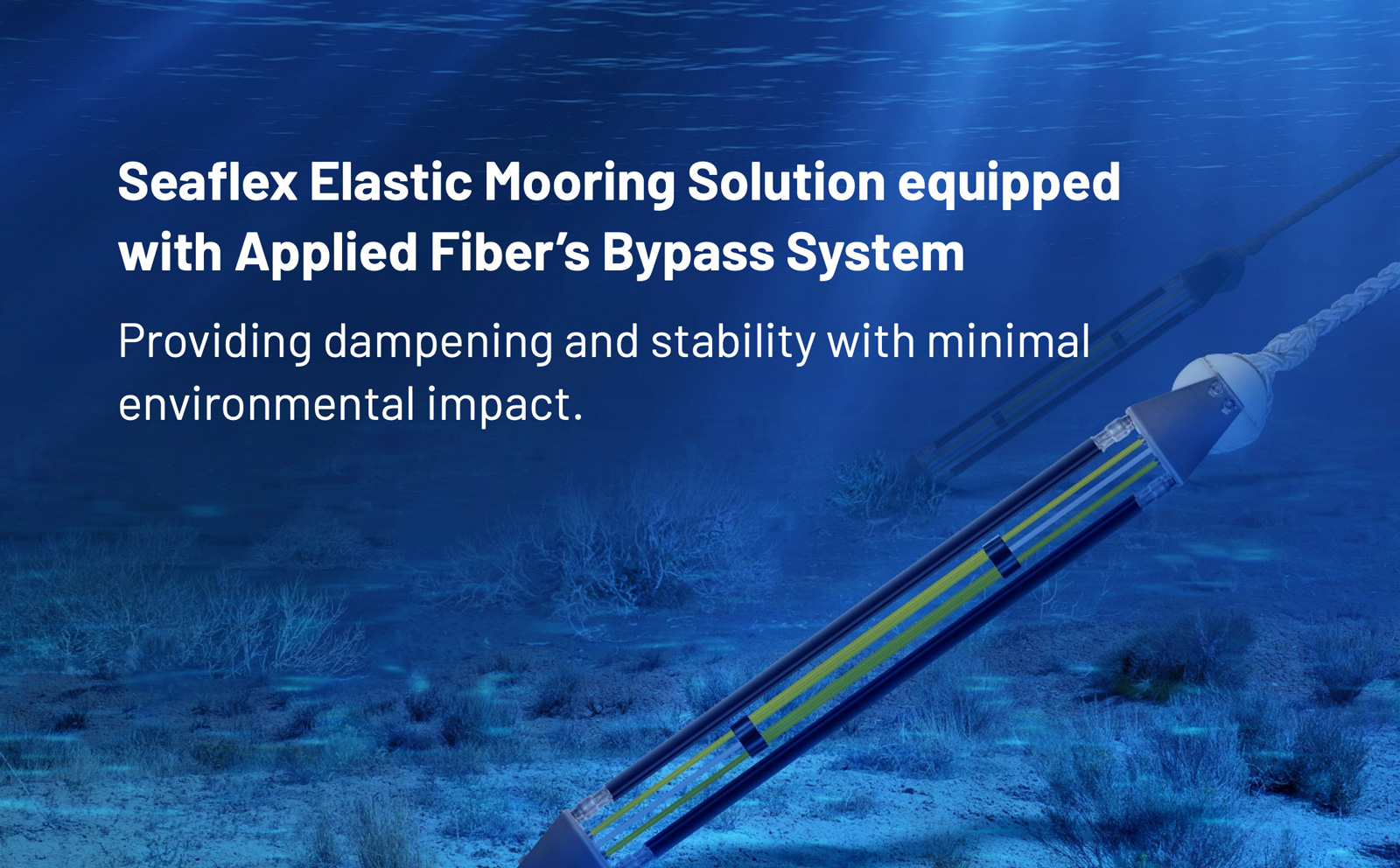 The Seaflex mooring system is also self-regulating accommodating the variations in water level, by slowly elongating and retracting in a smooth, even movement. The system is always under tension, providing stability to the platform/pontoon and can be designed to handle and dampen hurricane-strength wind forces. The system is installed in floating solar projects and marinas worldwide at various water depths. Some of the 1,500+ project installations worldwide have over 300 ft depths.
As Lars Brandt President of Seaflex notes, "We are thrilled to be a part of this project and others like it around the world. Seaflex is the most modern and technologically advanced mooring system available, providing secure moorings even under the worst weather conditions. Applied Fiber's bypass system has been an integral part of our system design for over fifteen years now which provides our system users with a trusted and proven mooring solution, and we look forward to supporting the growth of alternative energies as the future of sustainable energy evolves."